Access Control
The MAC Portal is extremely customizable in terms of what types of security methods can be used. Modular Security Systems, Inc. maintains relationships with many different vendors to supply unique access control solutions.
Various Identification and Access Control Options:
Proximity (Prox) Card - Prox cards are contactless integrated circuit devices used for access control. They operate at a range of approximately 0-3" and may be as simple as an employee ID number or intelligent enough (smart cards) to contain human readable features like fingerprints.
Radio Frequency Identification (RFID) - RFID requires the cooperation of an RFID tag and reader. An RFID tag can be placed on/in a tool or card which a reader can read several meters away. RFID is used for tracking and inventory control as well as access control and theft prevention.
Biometrics
Facial Recognition - Facial recognition uses a 3D image of a face to identify personnel. By evaluating the peaks and valleys around the different features of the face like the nose, mouth, and eye sockets, the computer recognizes nodal points to create a "face print" that is extremely unique. That "face print" can then be compared to others in the system database.

Hand Geometry - Hand geometry recognition is the oldest, yet still effective, for of biometric identification. A patent for the technology was awarded in 1986 and the technology debuted on the market the very next year. Readers evaluate the length, width, thickness, and surface area using a silhouette image of the human hand.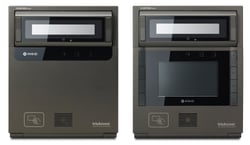 Iris Scan - Iris scanners analyze the colored tissue around the eye which has more than 200 points that may be evaluated for uniqueness. The technology works through glasses and some devices even prevent spoofing by using a light variation to analyze pupil dilation.
Metal Detection- Metal detection screening devices can also be installed in MAC Portals to add to the level of screening and security capabilities at your site. Through the use of metal detection devices for individuals and their baggage security at your location can be greatly increased.